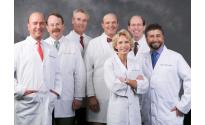 2 of 2 images | See All Images
BBB Accredited Business since 06/01/2008
BBB Business Reviews may not be reproduced for sales or promotional purposes.
Description
The Plastic Surgery Group of Memphis was founded over 39 years ago by Dr. Robert C. Reeder and has grown to be one of the largest plastic surgery groups in the South. The size and stability of this group has enabled them to provide a wide array of cosmetic and reconstructive procedures for their patients throughout the years.
All of their surgeons completed a surgical residency in addition to their Plastic Surgery training. The Group has established itself in the Mid-South region and cares for patients in both the Baptist and Methodist Hospital Systems.
Recognizing the demand for new therapies and procedures, the Group founded the PS Skin Care and Laser Center. The Center was one of the first in the Mid-South to offer physician-supervised aesthetic nurse specialists.

BBB Accreditation
A BBB Accredited Business since 06/01/2008
BBB has determined that The Plastic Surgery Group of Memphis (8 Plastic Board Certified Surgeons) meets BBB accreditation standards, which include a commitment to make a good faith effort to resolve any consumer complaints. BBB Accredited Businesses pay a fee for accreditation review/monitoring and for support of BBB services to the public.
BBB accreditation does not mean that the business' products or services have been evaluated or endorsed by BBB, or that BBB has made a determination as to the business' product quality or competency in performing services.
BBB verifies that BBB Accredited Businesses have required competency licenses when they apply for or renew their accreditation and encourages you to re-verify them. BBB does not routinely check licensing requirements or status on non-accredited businesses and recommends that you do so.
Reason for Rating
BBB rating is based on 16 factors. Get the details about the factors considered.
Factors that raised The Plastic Surgery Group of Memphis (8 Plastic Board Certified Surgeons)'s rating include:
Length of time business has been operating.
No complaints filed with BBB.
BBB has sufficient background information on this business.
Customer Complaints Summary
0 complaints closed with BBB in last 3 years | 0 closed in last 12 months
| Complaint Type | Total Closed Complaints |
| --- | --- |
| Advertising / Sales Issues | 0 |
| Billing / Collection Issues | 0 |
| Problems with Product / Service | 0 |
| Delivery Issues | 0 |
| Guarantee / Warranty Issues | 0 |
| Total Closed Complaints | 0 |
Government Actions

BBB knows of no significant government actions involving The Plastic Surgery Group of Memphis (8 Plastic Board Certified Surgeons).

Advertising Review

BBB has nothing to report concerning The Plastic Surgery Group of Memphis (8 Plastic Board Certified Surgeons)'s advertising at this time.
Additional Information
top
BBB file opened: 11/11/1994
Business started: 01/02/1972
Contact Information
Principal: Dr. R. Louis Adams (President)
Customer Contact: Ms. Karen Searcy (Administrator)
Dr. George Burruss
(VP)
Dr. Robert Gregory Chandler
(VP)
Ms. April Elder
(Administrator)
Dr. Neumon Goshorn
(VP)
Dr. Allen Hughes
(VP)
Dr. Karen Quigley
(Sec & VP)
Dr. Ellis Tavin
(VP)
Business Category
Physicians & Surgeons - Cosmetic, Plastic & Reconstructive Surgery, Physicians & Surgeons
Products & Services
Aesthetic surgery is performed to reshape normal structures of the body in order to improve the patient's appearance and self-esteem.
Reconstructive Surgery is performed on abnormal structures of the body, caused by congenital defects, developmental abnormalities, trauma, infection, tumors or disease. It is generally performed to improve function, but may also be done to approximate a normal appearance.
For more in-depth information on procedures we perform, they have a wide variety of brochures on aesthetic and reconstructive surgery available in our office.
Financial Policy: They request payment at the time services are provided in the office unless prior arrangements have been made. Their Insurance Coordinator will be happy to answer any questions concerning fees, payments due or payment options available.
Payment for cosmetic surgery procedures will be discussed during your consultation visit. These fees are due prior to surgery.
For all surgery, we will accept a personal check three weeks prior to your surgical date. They will require a cashier's check, money order, or credit card payment. They accept Visa, Mastercard and American Express.
Other financial alternatives are available.

Hours of Operation
They are open from 8:30am to 4:45pm Monday through Friday and are closed on holidays. There is a physician on call for the group every evening, weekend, and holiday