BBB Business Review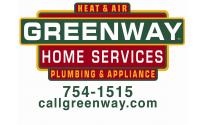 3 of 3 images | See All Images
BBB Accredited Business since 04/01/2010
BBB Business Reviews may not be reproduced for sales or promotional purposes.
Description
Greenway Home Services is one of the area's largest companies for appliance repair, heating and air service and install and plumbing repair.
Request a Quote
BBB Accreditation
A BBB Accredited Business since 04/01/2010
BBB has determined that Greenway Home Services, LLC meets BBB accreditation standards, which include a commitment to make a good faith effort to resolve any consumer complaints. BBB Accredited Businesses pay a fee for accreditation review/monitoring and for support of BBB services to the public.
BBB accreditation does not mean that the business' products or services have been evaluated or endorsed by BBB, or that BBB has made a determination as to the business' product quality or competency in performing services.
BBB verifies that BBB Accredited Businesses have required competency licenses when they apply for or renew their accreditation and encourages you to re-verify them. BBB does not routinely check licensing requirements or status on non-accredited businesses and recommends that you do so.
Reason for Rating
BBB rating is based on 16 factors. Get the details about the factors considered.
Factors that lowered Greenway Home Services, LLC's rating include:
42 complaints filed against business
Factors that raised Greenway Home Services, LLC's rating include:
Length of time business has been operating.
Response to 42 complaint(s) filed against business.
Resolution of complaint(s) filed against business.
BBB has sufficient background information on this business.
Complaint Breakdown by Resolution
02/14/2014
Problems with Product / Service | Read Complaint Details

X

Additional Notes

Complaint Category: Failure to provide promised assistance or support for products or services

Complaint: Company made MANY service calls, could not figure out the problem and left us without heat on many days and two of the days were the coldest on record
We were having issues with both the inside and outside parts of the downstairs heat up and after countless trips by your technicians we were no closer to solving any of those issues and we had to spend two of the coldest days on record without heat in the main parts of our house as well as a few other days without heat. Our technician found that the issue with the inside unit was the thermostat and we would not have had to spend any time without heat had the thermostat simply been replaced. As far as the outside unit, the technician decided that the best course of action was to replace the unit because while troubleshooting the unit your technicians seem to have made the issue worse.

Also due to having to run the inside unit almost constantly since Thanksgiving our heating bills have tripled in the last two month (I have sent copies along with this letter). I realize that we have had a very cold winter but as you know the inside unit is very inefficient and is not supposed to be the main heat for the house.

As someone who has worked in customer service most of her life, I find the lack of follow through by your technicians and your customer service staff, ridiculous. Several times I was promised call backs or return calls and I never received them. I was told many times that I would be receiving a call within the next hour to have an appointment set for the following day and I didn't receive said phone call and when I called back there was no time on the schedule for an appointment and I ended up having to wait another day, often without heat, until the technician could come back. I realize that you basically have a captive audience being the only**** provider in the area but you cannot treat your customers that way, even if they are**** warranty customers.


Initial Business Response
I appreciate the opportunity to respond to this complaint and that the situation has been brought to my attention.
In researching the history of this call, it does appear that there was sometimes a lack of communication between the technicians, customer service and the customer. This is a heat pump and can sometimes be difficult to service. Our technicians did try to repair the unit unsuccessfully and we were in the process of getting the technical specs from the manufacturer when informed the customer had another company replace the unit.
I have no idea what the complete diagnosis was, therefore am unable to comment on that aspect. When dealing with a home warranty company we don't have the luxury of not repairing and just replacing the unit. Repair costs have to be submitted along with an accurate diagnosis and sometimes that process is not quick or smooth.
I understand the customer's frustration,but know that the technicians tried their best to remedy the situation. As to the increase in electric costs, this has been an unusual winter with extremely cold temperatures. Heat pumps in this area typically need supplemental heat, in this case electric, whenever the temps fall below the balance point of 30-40 degrees. Since we received this call on Dec 11, not before Thanksgiving, we have had record cold so the electric heat would have been running much more than normal. Accounting for any differences between electricity used and what might have been used if unit was working the entire time is not something I am prepared to do at this time.

Complaint Resolution: Company addressed the complaint issues. The consumer failed to acknowledge acceptance to BBB.

02/14/2014
Billing / Collection Issues | Read Complaint Details

X

Additional Notes

Complaint Category: Failure to substantiate charges

Complaint: ***** ***** of Greenway charged $119.95 service fee and didn't even ATTEMPT to unclog line, then gave me $250 estimate for camera. Much more to this.
Would you pay a company $119.95 to come to your home, just look in the tap out and say your main line needs to be dug up? ***** ***** from Greenway came and looked in it and said, "I can't fix this." He didn't even try, he just looked in it. I can look in and see some water is coming out but he said the line was collapsed. He could see it was collapsed he said. Then he gave me an estimate for running a camera in it. The estimate was for $250. Why would you run a camera in to see the problem after you just told me you knew the problem by looking in the tap out? I am telling everyone I know to be very wary of this company. This drain tech did not even try to unclog my line and so when ********* Plumbing came over, the guy, Zach ran an auger and unclogged it. Case closed ... don't use Greenway.


Initial Business Response
Customer contacted the business direct and we have a scheduled appointment for Wednesday morning.

Complaint Resolution: Company resolved the complaint issues. The consumer acknowledged acceptance to BBB.

01/31/2014
Problems with Product / Service | Read Complaint Details

X

Additional Notes

Complaint Category: Failure to provide promised assistance or support for products or services

Complaint: Greenway Home Services serviced my heater and it stopped working 20 minutes later. They said that would come back to check it for another service fee
I contacted Greenway Home Services on Monday, November 4, 2013 to request that they service my heating unit before I turned it on for the season. I wanted it cleaned and checked to make sure that their were no problems with it. Greenway came out on Tuesday, November 5, 2013 and serviced my heater. The tech cleaned the unit and checked for any issues. He also lit the pilot. The heater came on and he said that it was working fine but recommended a new filter. When the heater went off because the house had warmed up, he left. I left soon after to purchase a filter. When I returned a couple of hours later, the house was cold. I looked at my heater and pilot had gone out. My brother and I both tried to light the pilot but it would not light. I contacted Greenway Home Services first thing in the morning on Wednesday, November 6, 2013. I explained to ******** the customer service person, that Greenway had come out to service my heater but it stopped working less than an hour after he left. He told me that in order for Greenway to come back that I would have to pay another service fee in the amount of $79.00. I paid Greenway $89.95 on November 5, 2013 when they came out to service my heater. I did not schedule an appointment with ******** I called back after determining that my heater needs to be fixed and I have already paid Greenway. I explained the situation to ****** this time. ****** put me on hold to check with her manager, ****** ****** told me that, per her manager, if Greenway came back out and determined that they caused the problem with my heater, I would not be charged the service fee. However, if it was found that they did not "cause" the problem, that I would be charged the $79.00. I never said that Greenway "caused" the problem. My issue is I paid Greenway to check my heater before turning it on. Therefore, if there was an issue, it was for Greenway to notify me that there was an issue. That is why I called them to check it out and that is for what I paid them. Greenway did not perform the service for which I paid them. When I contacted them to provide the service for which they had already been compensated, they told me that I would have to pretty much start over. If that is the case, I can contact someone else because Greenway Home Services already has my money and is through with me.

Initial Business Response
we sent a technician to clean and service *** ******'s furnace on 11/5/13. This was not scheduled as a service call, but rather a one time cleaning. The technician cleaned and checked the heater and it was working when he left. We were notified on 11/6 that the heater had stopped working. Our protocol at that time is to inform the customer that we will be happy to return and check the heater. We also inform them that if the unit is not operational because of something we did, that there would not be a charge, but if a part has failed there would be a service charge and parts charge.
We did actually schedule ** ****** to send a technician back out, but she canceled the call. It seems she had another company out to replace the thermocouple the same day she called to let us know the unit wasn't working. Since the heater was working when our technician left, it is logical to conclude that the thermocouple was working and failed some time later.
I regret that we weren't given the opportunity to return and determine why the heater stopped working, but we never said we were through with the customer. We are always willing to go the extra mile and would have done so in this case. If the problem was miscommunication between *** ****** and customer service, I apologize for that, but in this instance, I don't believe a refund is in order. We did perform the service for which we were originally called. The customer was not charged a service charge, only a charge for the cleaning. It was *** ******'s choice to call another company on the same day she called us and pay their service charge without giving us the chance to make it right.

Final Consumer Response
(The consumer indicated he/she DID NOT accept the response from the business.)
I am not satisfied with the substandard service from Greenway Home Services or with the excuse provided as a response. I did indeed contact Greenway Home Services on November 6, 2013 after their poor service provided on November 5, 2013. As Greenway stated, I requested that my heater be cleaned and serviced before I started using it. They cleaned it and told me that it was working fine. If I pay a company to check my heater before I turn it on for the season, I expect it to be thoroughly checked. What good is it to have them come out and do what I could have done - just flip the switch to on? My heater stopped working as soon as they left. Thinking that Greenway is a reputable company, I naturally called them back. When they notified me that they would come back two days later as well as charge the same fee again, I went on and scheduled an appointment with Greenway. However, the temperature was forecast to be below freezing for the next two nights. My options were to start over with a company that I had already paid and wait two nights with no heat or to contact someone else to service my heater. I contacted ********* ***** a local company, and explained my situation. They said that they would come out right away and check my heater. I called and canceled the appointment with Greenway. (I had to take off from work for Greenway to come out on November 5, 2013. It did not make sense for me to pay them again and to take time off work again when they might not do what they were supposed to do again.) Greenway's response to my complaint states that I had someone come out the same day that I contacted them. That is exactly my point, I have already paid you to provide a service and you did not see it through. The other company, ********** came out and immediately identified the problem with my heater. This is what I expected from HVAC professionals. ********* also said if I had any problems to contact them and they would come back and not charge another service fee. ********* provided quality service, professional attitudes and exemplary customer service. Your company told me that I would have to pay you again and wait two days. Furthermore, Greenway became defensive acting as if I was accusing them of breaking the heater. (That is also implied in the written response from Greenway.) I NEVER said Greenway caused the problem. As I stated, I wanted to know what was wrong with it and have it repaired. I did not say come out and fix my heater for free. My initial request was for the "HVAC professionals" to come out and check my heater. They charged me for servicing my heater and obviously they did not because it stopped working as soon as they left. They certainly did not go "the extra mile". I understand that I would have been billed for fixing the heater but charging another service charge is dishonest and bad business. They were given every opportunity to provide a complete service to me as their customer but they failed miserably. Greenway should refund my money because they, as the subject matter experts, did not provide the service requested. They were paid to check my heater for any issues but failed to identify a problem with it. Furthermore, when given the opportunity to see the service through, they made it clear that their only concern was being paid.

Final Business Response
After further review of the details of Ms.******'s complaint, I am authorizing a refund of the charge for cleaning her furnace. I regret that she is still unhappy with our service and hope this helps to resolve any ill feelings. My opinion is still that the technician cleaned and checked the furnace properly and that the thermocouple failed after he left and strongly disagree with any statements made to the contrary. Unfortunately, sometimes parts fail and often without any warning. However, we could have avoided this situation by offering to return immediately when notified that the heater had stopped working. I did not take that into account when making my first response.





Consumer Response
I have not been contacted by Greenway Home Services regarding the refund for which they agreed. It has been over thirty days since the case was closed with the Better Business Bureau.


Business Response
I have confirmed the check has been written and sent. Please call our accounting office if you have an issue. *************

Complaint Resolution: Company resolved the complaint issues. The consumer acknowledged acceptance to BBB.

01/22/2014
Problems with Product / Service | Read Complaint Details

X

Additional Notes

Complaint Category: Improper or inferior service

Complaint: Sewer line replacement results in destruction of yard and a huge mound of dirt left behind. Provider ensured clean up was not performed.
******** came to my house to fix a backed up sewer line. After realizing I had no clean-out pipe, which is apparently common with older homes, I allowed them to install a new sewer line at the cost of $3,500. ****, the manager, was very pleasant to speak with and ensured me that the new pipe was the way to go as opposed to just puttin in a clean out. He also ensured me that it would be okay to leave the old pipe in the ground and just put in a new pipe. I've since found out (from others in the industry) that this is not normal but was just easier for the plumbers.

My new pipe was installed and, based on conversations with ****, I was expecting some mess or about a foot mound of dirt. What I came home to was a foot and a half tall trench of dirt that ended with an approximately 3 and 1/2 mound of dirt at the edge of the yard and a clean out that stood nearly 4 feet tall. When **** came by to collect the money, I pointed this out. Again, I was ensured that this was normal as the ground needed to settle before the dirt could be smoothed and the clean-out cut down to an appropriate street level size. I was told this would take approximately two months and they would come back out and finish.

It's been nearly three months and the ground has settled about a half foot. I've tried to call Greenway on multiple occassions and am told that they will pass my message to **** and I have still heard nothing. I've also spoken with customer service and who "took down my information personally".

My yard is a mess and several neighbors and friends have all informed me that my yard should not look like this. One neighbor had just had the exact thing done to her yard a mere 3 months before and showed me that hers was presentable immediately. It appears that Greenway has no intentions of completing the job that I was told they would complete. She actually used ****** ******** who **** strongly recommended against when I told him I was going to get quotes from several businesses.

Also, as a part of the service, **** threw in replacing a toilet for me. I had already bought a toilet and was planning to install it but figured it would save me time and why not have a professional install it for me. So after reminding him of this deal, the guy shows up to install my toilet and informs me that he had never actually installed a toilet before but was just the plumbers assistant. For the next hour, I showed him how to install a toilet and used my own tools to do so. I will say that the guy was very kind and was as professional as he could be in the situation.

Initial Business Response
After inspecting Mr. ********' yard, we absolutely agree that mound of dirt should be hauled away and clean-out cut down. Appointment has been set.

Complaint Resolution: Company addressed the complaint issues. The consumer failed to acknowledge acceptance to BBB.

01/06/2014
Problems with Product / Service | Read Complaint Details

X

Additional Notes

Complaint Category: Failure to honor a contract or agreement

Complaint: Contractual work was not done on a timley fashion, costed me additional service fees.
An annual HVAC PM Contract was agreed with the company in May of 2013, for the amount of $517.00, property located at *********************, Germantown, TH 38138, performing full PM on five units twice a year to ensure proper and safe operation.
Spring cleaning was completed in 20 minutes to five outside condensers in a rainy weather, though I warned the technician not to do it in a rainy weather, due to safety reason but was done any way. Next day I checked the condensers units, coils, fans and screen were still dirty. The technician did not come inside the house to check the filters.
Few weeks later, I placed as service call to check a thermostat, not cooling one of a zone in the house. The technician came in, and repaired the device, and told me to replace the missing filters. I asked the technician to go ahead and order the special 4" wide filters and come back and changed them. He said the filters will extra, not covered with the PM Service, I said ok to charge. He said he would. But he never came back with filters
On Nov 7, 2013, I called *******, PM coordinator, to complain that fall PM has not been scheduled. She said "We have thousands of customers and have not gotten around it yet to call me to schedule a PM". She scheduled a service call for Nov 25, 2013. Also, I reported that the filters were never replaced in spring, as I requested to the technician. She mentioned there is no record of such recommendations on the technician work order, and he is no longer working with the company.
On Nov 18, at 7:00AM, I called in to report one of the units is not coming on 2nd floor; a service call was scheduled for Nov 19. Later the company called and changed service day to Nov 18 due to a cancellation, and I said that would be fine.
Nov 18, the technician came in, and repaired the unit by cleaning the "Flame sensor", I paid service fee of check $75.00 to the technician (part of service agreement with AHS annual contract).
Nov 19, AM, I called the company and complaint to *******, if the PM had done on time, in late October, as promised fall PM, the heating problem would have not had happened, and I did not have to pay $75.00 service. I requested return of $75.00. I was told a fee is applied towards AHS service. I asked her to speak with Mr. *****, owner of the company, was told he does not come to the office. She transfers my call to *****, Customer Service Manager. I explained to ***** the entire situation. She kept on "Filibustering", did not allow me to speak, and kept on interrupting me, I demanded to speak with Mr. *****, and she told me he is not available. I told her that I will report this incident to BBB, if Mr. ***** did not call in next few hours. She told me Mr. ***** will not call and contact BBB.
I have yet to hear from Mr. *****. What I want is $75.00 back. Also, since the company did not perform scheduled PM, as agreed, and refund of entire $517.00.


Initial Business Response
Mr **** signed up for our VIP program in May 2013. Among other perks, our program includes 2 maintenance calls each year. There is no specific time frame for these calls other than 1 a/c tune up and 1 heat tune up.
The heating tune up was already scheduled when Mr. **** called to report 1 of his 5 units not working. Since he uses a 3rd party home warranty company for repairs, they were contacted to issue a work order for the service. The technician completed the work and collected the copay required by the home warranty company.
When the customer called to complain, he was offered a partial refund on his maintenance agreement since the 2nd tuneup was scheduled, but not completed. He refused and wanted the heating tuneup also, which we did on 11/25 as previously scheduled.
Unfortunately, the copay required by his warranty company is not at our discretion. Mr. **** made the choice to schedule a service call on one of his units, we ran the call and per his contract and ours with the warranty company,we collected their copay. He also chose to have us complete the maintenance call on the heating systems. We do not refer to or promise that our VIP agreements are scheduled prior to the heating or cooling season. We do maintenance calls year round.
As to the customer's assertion that the a/c maintenance call was completed in 20 minutes. His units were serviced on 6/1/13 and the technician's GPS shows him at the property for over 2 hours. I have no way to address the condition of the units or if he wanted filters ordered because we show no record of any filters ordered and no record of any displeasure or complaint with the a/c tuneup or the following service call.
In summary, we did perform the scheduled maintenance calls as agreed. We also performed the service call requested by the customer. He chose not to take the offered refund before we ran the heating tuneup and any refund of the copay would have to come from the warranty company.

Page 1 of 6
10/17/2013
Problems with Product / Service | Read Complaint Details

X

Additional Notes

Complaint Category: Delayed completion of repair

Complaint: technitian came to service my AC unit. said he could not repair since he did not have a compressor. 20 days passed no repair or call from greenway
Failure to repair my AC in a timely manner. The service call was september 3, 2013 today is september 26, 2013. This is unacceptable.The Tech came out on the 3rd he said it was the compressor. Someone call me that evening ofering to sell me a unit I said no. I wanted it repaired. He said that Greenway was to place an order for a compressor. On on september 20, 2013 I called ******** **** ****** and complained about the service. On september 21, 2013 Greenway called and said they "lost my call" and that they had the part. But it came with a replacemrnt fee of $100 plus the service fee. This is unacceptable service.

Initial Business Response
We run 40,000 calls a year and obviously, in this case a mistake was made. I do not see where a disposal fee was ever charged in our system.

Final Consumer Response
(The consumer indicated he/she DID NOT accept the response from the business.)
I am complaining about the coustumer service after they got my call 15 days after. The "We run 40,000 calls a year and obviously, in this case a mistake was made". Clearly shows a "I do not care attitude"

The "I do not see where a disposal fee was ever charged in our system". Is after I presented the complain!

but fine just let them be a mediocre service provider.

I am done.

Complaint Resolution: BBB determined that despite the company's reasonable effort to address complaint issues, the consumer remained dissatisfied.

09/17/2013
Problems with Product / Service | Read Complaint Details

X

Additional Notes

Complaint Category: Repairs resulted in additional damage

Complaint: Greenway had been dispatched to my home to repair a blower motor, which they did repair. The repair work cause serious water damage to my wood floor.
on 8/17 Greenway had been dispatch to my house to repair a blower motor. In fixing the blower motor, the tech agent, **** had been negligent and did not clean the inside unit as well. The work the ADAM had done, caused significant amounts of water to travel under my wood floor, causing it to buckle. I had been in contact with Greenway ever since. Greenway initially told me to contact ******** *********** as they are my warranty company who had originally dispatched Greenway. After speaking with ***** **** and **** ******** to try and resolve this amicably, since the amount of damages is $686, they have now said that they are refusing to cover any secondary damage. They are claiming that any clog in the pipes was not negligence on their part, but rather the particles in the air caused by paint (they at first claimed it was drywall.) However, There have been no painters or contractors that would have caused said damage. This issue only happened after Greenway's technicians had come out. There have been several Greenway employees out to look at the damage since the incident, and one even made a comment about how the other technician did not check the drain pipe.


Business' Initial Response
Once again, we are not responsible for any damage at this house. The damage to his system was caused by someone painting either paint or sheet rock dust. We have pictures of the coils being coated in this material. This caused all of his problems. We have sent several hours explaining this to this customer. WE ARE NOT RESPONSIBLE. The warranty company agrees with us. Trying to use this forum to bully us into paying for something that we are not responsible for is a misuse of the BBB system.

Consumer's Final Response
(The consumer indicated he/she DID NOT accept the response from the business.)
Greenway's negligence and total disregard for the damage that their technician has caused, is exactly what the BBB is used to compensate for. They have not once acted according to practices or standards that are used by others in the industry. They have known about this issue for weeks and have failed to initiate any type of communication with me. It was I who initiated every phone call/email.

Once again, Greenway is claiming that sheetrock work or painting had caused the leak. However, I have not had any work done at my house, or in that room. I have lived in the house for 5 years now, and NEVER had this problem before, and never had any work, sheetrock, or painting done.
AND Greenway has been out several times for that unit over the past 2 years and never ONCE mentioned anything about this. They are looking for a way out.

This matter is almost 4 weeks old now, and Greenway has been very slick in being able to "delay, delay, delay." They have always known that they are responsible for the 'secondary damage' that they caused, but have been pushing off responsibility every since they found out what this will cost to remedy.

Business' Final Response
Let me begin by saying that we were not negligent in this matter and that the technician did not cause the damage as stated by the customer. The damage was caused by a stopped up drain line to the downstairs a/c unit which is located on the 2nd floor. The unit is also not equipped with a safety pan or safety float switches. Part of the issue has been that the technician thought the debris in the drain line might be drywall dust or paint overspray due to its light color as opposed to the much darker material we usually clear out of condensate drain lines. This was merely on opinion expressed by the technician, but in no way changes the fact that the drain stopping up is what caused the damage. This was not an excuse to escape responsibility. The evaporator pan overflowed due to debris clogging the drain, regardless of what the material was in the line. We do not do chemical analyses of debris we remove from drains; however, our technicians will inform the customer if they feel that there is something in the drain which might have been avoidable.
A technician was out on a Sunday and diagnosed the downstairs blower motor as being locked up. At that time, the evaporator coil was completely frozen over due to the lack of airflow from blower not running. We picked up the part and sent a technician back the next day, at which time, he replaced the motor and turned on the a/c. Upon checking the system, he found that the outside condenser coils were extremely dirty. Since this customer is covered by a home warranty contract, his coverage was checked and found not to cover maintenance costs such as condenser cleaning. The customer did not want to pay for the cleaning, argued with the technician and, in order to get the system working, the technician cleaned the condenser at no charge. Nothing that either technician did caused the drain line to stop up. Neither was negligent in the service he performed. When the customer called to let us know the unit was leaking, we sent a technician who found the stopped up drain and cleared the line. There were no symptoms to indicate that the drain had debris in it or to know that it was going to clog after the initial repair. We check systems for operation after repairing, but there are some things we cannot anticipate.
Unfortunately, in this area, a/c units are routinely installed in attics and above living spaces. Water leaks from evaporators, pipes and drains are inevitable, and when that happens, damage results. Safety pans and drain safety switches help, but this unit has neither. Routine maintenance is also key, but this customer does not have us performing that service for him. All of this has been explained to the customer over and over again. If he did not receive phone calls, it was mostly because we had already given him our opinion. It became useless to make repeated phone calls to explain that our working on the unit does not make us responsible for other failures especially when they could have been avoided with routine maintenance and there were no signs to indicate that there was another problem at the time of the repair.
We are not looking for a "way out", as the customer suggests. We live up to our responsibilities and take full ownership when we have done something wrong. In addition, the customer says we have been out several times over the past 2 years for that unit, but our records do not indicate that we have worked on the downstairs a/c at any time prior to this, although we have worked on the upstairs system. There has simply been too much focus on what material was in the drain and not enough on the fact that the drain was a secondary issue which only became evident after we took care of the primary failure and the unit had run for several hours. We did not cause the drain to stop up, we did not install the unit without a safety pan and we have not performed routine maintenance on the system. The cost of the damage is irrelevant. If we had been negligent in any way, we would have taken care of this immediately.

Complaint Resolution: BBB determined that despite the company's reasonable effort to address complaint issues, the consumer remained dissatisfied.

09/06/2013
Problems with Product / Service | Read Complaint Details

X

Additional Notes

Complaint Category: None of the Above - Repair Complaint Issue

Complaint: This began on 07/18/14, toilet in the hall bathroom was leaking Greenway is the company that ******** **** ******* uses for these type of repair issue
So on 07//18/13 a repairman from Greenway came to fix my leaking toilet. He replaced the seal at the bottom of the toilet. The next day I noticed the toilet was leaking worse to the point the carpet section of the bathroom was soaked. So I called back and the scheduled to have the repairman to come back out. He states the leak is coming from the top bolts and he can not get not of them off because the right side has rusted together. He calls back in and is told to try and saw them apart. He then calls back and is told to just order another toilet. I am told it would only be a few days before the part is back in. So a week passes and I have not heard back from Greenway. When I call them back they say they are waiting on ******** **** ****** to approve the part and they would contact AHs and get back to me. Did not hear from them within 48 hours so I called AHS and they state they have not even heard that Greenway had to go back out regarding the same issue and they had not provided a diagnosis. So the *** representative contacted Greenway and they calle and say they are coming to install the new toilet. So they give you these long windows this time (12-5) I have to leave work or be late to work with no results. So the repairman calls to say genus on his way, but that they are sending him to replace the seal at the bottom of the toilet again when he has already determined that this is not were the leak is coming fr. So untold him to not come to replace a part that he has already replaced once and said the leak was not coming from the bottom seal, but the rusted screws that he can not get apart. So I call *** and they say Greenway has not given them any additional information on the situation. I call Greenway back and know they are trying to say I told the repairman to not come to my house unless he was bringing a new toilet, but what I said was to not come to my house to replace a part he has already replaced and on top of that has said is not the problem. So I left with a broken toilet that has been chipped from trying to remove the rusted screws and sitting in middle of my bathroom floor for over a month!!!!!

Business' Initial Response
*** ******** told our office to cancel her service call. Until she calls our office and allows us to come to her home, we can do nothing. We have tried to send a manger to her house, but she refuses to have us out unless she is given a new toilet.

Consumer's Final Response
(The consumer indicated he/she DID NOT accept the response from the business.)
I do not except their response because that is not what I said. I said they could not come back to replace a part they had already replaced and was found to not be the root cause of the leak!!! I do not want them to keep coming to do the same thing and get the same result. I do have a job and I can not keep going in late or leaving early for nothing. I have decide to just replace the toilet on my own. This is more trouble than it is worth and on top Greenway is not telling the truth. The part would be purchased by *** not them so what is the big deal!!

Business' Final Response
Since you are replacing the toilet on your own, we consider this matter closed.

Complaint Resolution: BBB determined that despite the company's reasonable effort to address complaint issues, the consumer remained dissatisfied.

08/07/2013
Problems with Product / Service | Read Complaint Details

X

Additional Notes

Complaint Category: Inappropriate behavior by customer service personnel

Complaint: Inflated charges on Freon not used for service. Poor Customer Service from staff and Manager ***** (wouldn't give me his last name).
Greenway service provided the worst customer service ever and overcharged me for Freon not used in addition to price gouging. The service tech that came to inspect my items needed replacement attempted to force me into buying new equipment telling me American Home shield was going to buy the cheapest replacement parts and my service would break down regardless of new items. He also kept quoting it was 7 pounds of Freon that was required. I asked if the 7 pounds were not required would there be a refund and he said YES; however, Greenway has to charge for 7 pounds upfront. Afterwards he continued to tell me no matter how new my unit or heating system was it would break down again attempting to force new equipment on my residence. This is not the type of service technician you want to send out. Keep in mind this was not the install tech.

To reiterate - Greenway service quoted and charged a Freon charge of $280.00 for seven pounds of R22 Freon when only 5 pounds were required to "RESOLVE" my issue.

After calling Greenway CSR number 901.754.1515 customer service on July 9, 2013 because no one had called or showed up by appointment time 3pm to 5pm CST CSR advised the technician would be able to adjust the charges which were false for my inconvenience.

When I called back the same night, CSR advise in a rude manner "you have to call back in the morning" stating to call back the next day I can't help you. I was shocked and insulted. I called back the next morning on 8:25am giving everyone time to make it in the office and was bounced around to different names and number because the person I spoke with the night before was not in the office and no one could help me, so leave a message. After an hour or so the service Manager ***** called back in an aggressive tone from the start, stating he heard my message and the charges are it and nothing will be done. He was talking so fast and saying no so many times talking over me im not sure he would remember anything if anyone inquired about this issue. Im requesting Greenway service to issue me a Freon refund for the following issues:

False statement and charges
Poor customer service from staff and management
Price gouging / inflated charges


Invoice number XXXXXX / Address **** ********* ****** Memphis, TN XXXXX

These practives shold be against the law if not already. I plan on seeking legal assistance if this is not resolved.




Business' Initial Response
We have pulled our freon records for your install and found out that we only used 5 pounds of freon at your house. We are sending you a refund check of $80 which you are due.

Consumer's Final Response
(The consumer indicated he/she DID NOT accept the response from the business.)
Actually, Greenway Home Service Customer service advised the date of installation that I should be reimbursed for the Freon or some other compensation for the delayed service. I will agree to the $80.00 and split the Freon difference of 5lbs for $60.00 for a total of $150.00 to close this case.

Complaint Resolution: BBB determined that despite the company's reasonable effort to address complaint issues, the consumer remained dissatisfied.

04/09/2013
Advertising / Sales Issues
Page 1 of 3
Government Actions

BBB knows of no significant government actions involving Greenway Home Services, LLC.

Advertising Review

BBB has nothing to report concerning Greenway Home Services, LLC's advertising at this time.
Additional Information
top
BBB file opened: 08/29/2003
Business started: 04/01/1989
Business started locally: 01/15/2003
Type of Entity
Limited Liability Company
Contact Information
Principal: Mr. Carl Greenway (President)
Customer Contact: Mr. Michael Wilson (General Manager)
Ms. Sydney Whiteside
(Customer Relations)
Business Category
Heating & Air Conditioning, Water Heaters-Parts & Supplies, Heating Equipment & Systems Cleaning & Repair, Appliances - Major - Service & Repair, Air Conditioning Systems-Cleaning, Air Conditioning Repair, Water Heater - Tankless, Water Heaters-Dealers, Water Heaters-Repairing, Plumbing Drains & Sewer Cleaning, Plumbing - Renovation & Repair, Plumbers
Products & Services
Greenway Home Services offers the servicing & replacement of heating, and cooling systems as well as plumbing services and all major appliances repair
Hours of Operation
Mon: 08:00 AM to 05:00 PM
Tue: 08:00 AM to 05:00 PM
Wed: 08:00 AM to 05:00 PM
Thu: 08:00 AM to 05:00 PM
Fri: 08:00 AM to 05:00 PM
Sat: 08:00 AM to 05:00 PM
Sun: 08:00 AM to 05:00 PM
Industry Tips
Air Conditioning Service and Maintenance
Dont Get Burned by Furnace Fraud
Fall Inspections Make for Warmer Winters
Heating Your Home
Safety Considerations When Using Kerosene Heaters
Map & Directions
Address for Greenway Home Services, LLC
7550 Bartlett Corp Cv E
Bartlett, TN 38133-3963
LocationsX
1 Locations
7550 Bartlett Corp Cv E

Bartlett, TN 38133-3963Directions
Industry Comparison ChartX
The information in the table below represents an industry comparison of businesses which are of the same relative size. This is based on BBB's database of businesses located in West Tennessee, North Mississippi & East Arkansas. Businesses may engage in more than one type of business. The percent of time the business engages in a type of business is not accounted for. There is no known industry standard for the number of complaints a business can expect. The volume of business and number of transactions may have a bearing on the number of complaints received by BBB.
*Greenway Home Services, LLC is in this range.
X
Types of Complaints Handled by BBB
BBB handles the following types of complaints between businesses and their customers so long as they are not, or have not been, litigated:
Advertising or Sales
Billing or Collection
Problems with Products or Services
Delivery
Guarantee or Warranty
We do not handle workplace disputes, discrimination claims or claims about the quality of health or legal services.
X
Additional Phone Numbers
X
BBB Complaint Process
Your complaint will be forwarded to the company within two business days. The company will be asked to respond within 14 days, and if a response is not received, a second request will be made. You will be notified of the company's response when we receive it (or notified that we received no response). Complaints are usually closed within 30 business days.
X
What is BBB Advertising Review?
BBB promotes truth in advertising by contacting advertisers whose claims conflict with the BBB Code of Advertising. These claims come to our attention from our internal review of advertising, consumer complaints and competitor challenges. BBB asks advertisers to prove their claims, change ads to make offers more clear to consumers, and remove misleading or deceptive statements.
X
What government actions does BBB report on?
BBB reports on known significant government actions involving business' marketplace conduct.
X
About BBB Business Review Content and Services
Some Better Business Bureaus offer additional content and services in BBB Business Reviews. The additional content and services are typically regional in nature or, in some cases, a new product or service that is being tested prior to a more general release. Not all enhanced content and services are available at all Better Business Bureaus.
X
Thank you for your feedback.