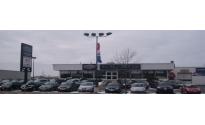 4 of 4 images | See All Images
BBB Accredited Business since 01/02/1998
CMH Sales & Leasing
Phone: (905) 641-8779Fax: (905) 641-2434169 Hartzel Rd, St Catharines, ON L2P 1G2cmhniagara.ca
BBB Business Reviews may not be reproduced for sales or promotional purposes.
Description
Locally owned and operated pre-owned vehicle dealer since 1993. 175 to 250 vehicles on a 2-1/2 acre lot and 18,000 sq. ft. building and showroom.
Request a Quote
BBB Accreditation
A BBB Accredited Business since 01/02/1998
BBB has determined that CMH Sales & Leasing meets BBB accreditation standards, which include a commitment to make a good faith effort to resolve any consumer complaints. BBB Accredited Businesses pay a fee for accreditation review/monitoring and for support of BBB services to the public.
BBB accreditation does not mean that the business' products or services have been evaluated or endorsed by BBB, or that BBB has made a determination as to the business' product quality or competency in performing services.
Reason for Rating
BBB rating is based on 16 factors. Get the details about the factors considered.
Factors that raised CMH Sales & Leasing's rating include:
Length of time business has been operating.
Complaint volume filed with BBB for business of this size.
Response to 5 complaint(s) filed against business.
Resolution of complaint(s) filed against business.
BBB has sufficient background information on this business.
5 complaints closed with BBB in last 3 years | 2 closed in last 12 months
| Complaint Type | Total Closed Complaints |
| --- | --- |
| Advertising / Sales Issues | 1 |
| Problems with Product / Service | 4 |
| Billing / Collection Issues | 0 |
| Delivery Issues | 0 |
| Guarantee / Warranty Issues | 0 |
| Total Closed Complaints | 5 |
Read Complaints | Definitions | BBB Complaint Process | File a Complaint
02/10/2014
Problems with Product / Service | Read Complaint Details

X

Additional Notes

Complaint Category: None of the Above - Contract Complaint Issue

Complaint: Vehicle repossessed due to bank error. This was the 1st payment. CMH will not give my deposit back. Ignored all calls from bank & myself.
Vehicle purchased 08/30/13. CMH stated I could only have a lease not a total buy, to which they still couldn't, (would not) explain why.
Vehicle information:
Pontiac Gran Prix 2008
Serial No. *****************
Vehicle Price $7,995.00
Odometer @ Delivery 154,527
Equipment: Loaded Alloys
Problem Date 09/30/13
Car Repossessed 09/31/13
Down Payment made 08/29/13 0f $3011.00 receipt made for $2400.00 salesmen made up the difference
of $611.00
1st Payment for the vehicle was made on Aug 30/13 the Bank, on error took the payment back. The Bank informed CMH of the error and would rectify it immediately with no response from CMH .CMH promptly repossessed the vehicle and as of todays date refuse to discuss any details about the return of either the down payment or the vehicle.
The owner of this establishment claims to have a sworn statement from a former landlord of mine stating an unlicensed driver was operating this vehicle which is totally false and why this landlord is even involved in this is beyond me.
Numerous calls to the owner of this establishment have proved fruitless, and now I see no other recourse in this matter .

Initial Business Response
Ms. ******** has breached our lease contract on 4. counts:

1. Her very first lease payment was returned STOP payment. She said it was the fault of her bank.

2. She grossly exceeded the kilometre allowance (6,500 km in the first month which is the equivalent of 78,000 kms/year ! The allowance is 2,500 km per month or 30,000 km/year).

3. We have a sworn and witnessed affidavit from her landlord and pictures proving to us she allowed her son without a valid driver's license to drive the car on a regular basis. Ms. ******** has of course denied this.

4. Her insurance policy on the vehicle was immediately cancelled by her insurance agent and company when they learned about the unlicensed driver.

We had no choice but to seize the vehicle to protect out interest and avoid great potential liability to CMH by her violating her insurance policy.

The vehicle was sold and represented by ********* ******* **** which is where Ms. ******** found the vehicle. CMH was contacted to provide lease financing to Ms. ********. CMH paid the full retail price to selling dealer. Given the current condition and odometer, the wholesale value of the vehicle is less than the balance owing on the lease.

Ms. ********'s balance has been placed in collection.

Ms. ******** also made a complaint to OMVIC (our regulating body). We provided our information and evidence to OMVIC, and they closed the case saying it was a criminal matter or matter for the courts.

After the car was seized on October, 2, 2013, Ms ******** was in touch with our office and her repeated calls from Oct. 2 to Oct. 8 were handled by our accounts rep *******. The situation was duly explained and we sent a driver to Burlington to return her contents from the vehicle.

Ms. ******** left a message for me on Oct. 9 which I did not return and did not feel compelled to return based on the sequence of events.

The matter was quiet until Jan.21 when Ms. ******** showed up with a strong smell of alcohol on breath in our showroom with no appointment asking to see me. I was very busy and refused to see without an appointment. Against the advice of my employees she marched upstairs to our administrative area and interrupted me in my closed office while I was in the process of an on line webinar. I accused her of drinking which she admitted and asked her to leave, which apparently she eventually did after some time.

I called back Ms. ******** that evening and spoke at length with her explaining the situation. She denied allowing her unlicensed son to drive the vehicle and I told her that unfortunately we have to go by the evidence we have in our file. I did say could have the vehicle back with no interest if simply paid the price we paid for the vehicle plus our 500.00, and less her down payment she had paid us in August. HST tax is applicable of course. At that point her phone went dead and disconnected. Two days later we received this complaint from the BBB.

In summary, Ms. ******** has breached the lease contract and will not get the vehicle back unless she pays the balance of the purchase price as described above. As it stands, Ms ******** owes us a balance (in collection) and there will be no refund to her.

In over 20 years of vehicle leasing, the is one of the clearest breach of lease contract cases I have seen.

****** ****
President
CMH Sales & Leasing


Complaint Resolution: Company addressed the complaint issues. The consumer failed to acknowledge acceptance to BBB.

07/15/2013
Problems with Product / Service
02/25/2013
Advertising / Sales Issues
01/21/2013
Problems with Product / Service
08/20/2012
Problems with Product / Service
Industry Comparison| Chart
Auto Dealers - Used Cars, Leasing Service
Government Actions

BBB knows of no significant government actions involving CMH Sales & Leasing.

Advertising Review

BBB has nothing to report concerning CMH Sales & Leasing's advertising at this time.
Additional Information
top
BBB file opened: 04/08/2011
Business started: 01/05/1993
Licensing
This company is in an industry that may require licensing, bonding or registration in order to lawfully do business. BBB encourages you to check with the appropriate agency to be certain any requirements are currently being met.
These agencies may include:
Ontario Motor Vehicle Industry Council
789 Don Mills Rd, Suite 800
North York, ONM3C 1T5
(800) 943-6002
http://www.omvic.on.ca
BBB records show a license number of OMVIC for this company, issued by Ontario Motor Vehicle Industry Council. Their web address is http://www.omvic.on.ca.
Type: Provincial
Contact Information
Principal: Mr. Philip B Engs (President)
Business Category
Auto Dealers - Used Cars, Leasing Service
Products & Services
Pre-owned cars, trucks, SUV's and vans. Full rage of financing solutiuons from ultra low prime rate bank finacing thorugh to In House lease to own for bank turn downs.
Hours of Operation
Mon: 09:00 AM to 07:00 PM
Tue: 09:00 AM to 07:00 PM
Wed: 09:00 AM to 07:00 PM
Thu: 09:00 AM to 07:00 PM
Fri: 09:00 AM to 05:00 PM
Sat: 09:00 AM to 05:00 PM
Service Area
Niagara Peninsula and surrounding area
Industry Tips
Buying a Used Car
Dont Get Soaked Buying a Flood-damaged Vehicle
Purchasing a Car Online
Know the Facts About Used Car Fraud Before You Buy
VIN Cloning Swindles Luxury Car Buyers
Map & Directions
Address for CMH Sales & Leasing
169 Hartzel Rd
St Catharines, ON L2P 1G2