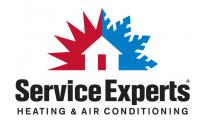 1 of 1 image | See All Images
BBB Accredited Business since 08/10/2009
BBB Business Reviews may not be reproduced for sales or promotional purposes.
Description
The Service Experts Heating & Air Conditioning family of contractors consists of more than 100 locations across North America. The company services the heating and cooling needs of residential homeowners and commercial businesses in all areas of indoor environment control, such as: air filtration and purification, furnaces and air handlers, air conditioners, heat pumps, boilers, solar HVAC systems, thermostats and water heaters. The company services all brands for repair service, maintenance, sales and installation. Additional services vary by location and may include plumbing, duct cleaning, attic insulation, fireplaces and geothermal heating.
BBB Accreditation
A BBB Accredited Business since 08/10/2009
BBB has determined that Service Experts Heating & Air Conditioning meets BBB accreditation standards, which include a commitment to make a good faith effort to resolve any consumer complaints. BBB Accredited Businesses pay a fee for accreditation review/monitoring and for support of BBB services to the public.
BBB accreditation does not mean that the business' products or services have been evaluated or endorsed by BBB, or that BBB has made a determination as to the business' product quality or competency in performing services.
All Locations are BBB Accredited
Find a Location
Reason for Rating
BBB rating is based on 16 factors. Get the details about the factors considered.
Factors that raised Service Experts Heating & Air Conditioning's rating include:
Length of time business has been operating.
Complaint volume filed with BBB for business of this size.
Response to 418 complaint(s) filed against business.
Resolution of complaint(s) filed against business.
BBB has sufficient background information on this business.
418 complaints closed with BBB in last 3 years | 116 closed in last 12 months
| Complaint Type | Total Closed Complaints |
| --- | --- |
| Advertising / Sales Issues | 48 |
| Billing / Collection Issues | 41 |
| Delivery Issues | 2 |
| Guarantee / Warranty Issues | 24 |
| Problems with Product / Service | 303 |
| Total Closed Complaints | 418 |
Additional Complaint Information
This review covers all 90 locations of Service Experts and all complaints filed against any of them for the last three years. Please distinguish this centralized review from other BBB Business Reviews which may cover only one location of a company.
Read Complaints | Definitions | BBB Complaint Process | File a Complaint
Government Actions

BBB knows of no significant government actions involving Service Experts Heating & Air Conditioning.

Advertising Review

BBB has nothing to report concerning Service Experts Heating & Air Conditioning's advertising at this time.
Additional Information
top
BBB file opened: 10/26/1993
Business started: 03/01/1996
Business started locally: 01/01/2000
Licensing
This company is in an industry that may require licensing, bonding or registration in order to lawfully do business. BBB encourages you to check with the appropriate agency to be certain any requirements are currently being met.
These agencies may include:
Texas Department of Licensing & Regulation
PO Box 12157, Capitol Station
Austin, TX78711
(800) 803-9202
http://www.license.state.tx.us
Contact Information
Principal: Mr. Rob Haines (Marketing Manager)
Mr. Scott J. Boxer
(President/CEO)
Ms. Patricia Gilmore
(Customer Relations Specialist)
Business Category
Heating & Air Conditioning, Air Conditioning Systems - Cleaning, Air Conditioning Repair, Air Conditioning & Heating Contractors - Commercial, Heating Contractors, Air Conditioning Contractors & Systems
Products & Services
Heating & AC systems, inspections, maintenance, sales, equipment installation, warranties and service plans. Air Quality solutions, including every type of air filter, air cleaners, humidification control, fresh air ventilators and duct sealing.
Hours of Operation
Mon: 12:00 AM to 11:30 PM
Tue: 12:00 AM to 11:30 PM
Wed: 12:00 AM to 11:30 PM
Thu: 12:00 AM to 11:30 PM
Fri: 12:00 AM to 11:30 PM
Sat: 12:00 AM to 11:30 PM
Sun: 12:00 AM to 11:30 PM
Alternate Business Names
Sunbeam Service Experts, Becht / Givens Service Experts, Steel City Service Experts, Midland Air Service Experts, Service Experts Heating & Air Conditioning, Strogen's Service Experts, DiMarco Service Experts, Service Experts Heating & Air Conditioning, Peitz Service Experts, Wesley Wood Service Experts, Service Experts, Rob's Albertan Service Experts, Dearie Contracting Service Experts, Certified Heating Service Experts, Lakeshore Heating Service Experts, Classic Fireplace Distributors, Rob's Albertan Service Experts, D.A. Bennett Service Experts, SE Heating & Air Service Experts, Service Experts, Climate Masters Service Experts, Mathew's Service Experts, Rob's Albertan Service Experts, Bartels/Westside Service Experts, Donelson Service Experts, Kruger's Service Experts
Industry Tips
Air Conditioning Service and Maintenance
Dont Get Burned by Furnace Fraud
Fall Inspections Make for Warmer Winters
Heating Your Home
Safety Considerations When Using Kerosene Heaters