BBB Business Review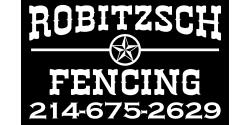 4 of 11 images | See All Images
BBB Accredited Business since 07/11/2011
BBB Business Reviews may not be reproduced for sales or promotional purposes.
Description
We build various types of fences, as well as, offer residential remodeling services.
Request a Quote
BBB Accreditation
A BBB Accredited Business since 07/11/2011
BBB has determined that Robitzsch Fence meets BBB accreditation standards, which include a commitment to make a good faith effort to resolve any consumer complaints. BBB Accredited Businesses pay a fee for accreditation review/monitoring and for support of BBB services to the public.
BBB accreditation does not mean that the business' products or services have been evaluated or endorsed by BBB, or that BBB has made a determination as to the business' product quality or competency in performing services.
Reason for Rating
BBB rating is based on 16 factors. Get the details about the factors considered.
Factors that lowered Robitzsch Fence's rating include:
Length of time business has been operating.
Factors that raised Robitzsch Fence's rating include:
Complaint volume filed with BBB for business of this size.
Response to 1 complaint(s) filed against business.
Resolution of complaint(s) filed against business.
BBB has sufficient background information on this business.
1 complaint closed with BBB in last 3 years | 1 closed in last 12 months
| Complaint Type | Total Closed Complaints |
| --- | --- |
| Problems with Product / Service | 1 |
| Advertising / Sales Issues | 0 |
| Billing / Collection Issues | 0 |
| Delivery Issues | 0 |
| Guarantee / Warranty Issues | 0 |
| Total Closed Complaints | 1 |
Read Complaints | Definitions | BBB Complaint Process | File a Complaint
09/10/2013
Problems with Product / Service | Read Complaint Details

X

Additional Notes

Complaint Category: Defective, damaged, or incorrect product received

Complaint: metal handrails installed in front of house began to rust soon after installed despite assurances that this product would not rust
handrails installed oct 19, 2012 we paid $2500 to purchase the higher grade powder coated handrails which we were told would not rust-- rusting began soon after- ***** ********* was called back to the house several times once he did some touch up but the rusting became more widespread and i contacted him again- he said he would look at it again but i never heard back from him- In response to my further phone call and complaints he said that it was minor and i was just being too picky . I persisted and he came to our house on 3/29- viewed the wide spread rust and this tikme agreed that the powder coating was poorly done and offered either to remove and redo or to come to the house and paint- we chose to have him repaint the rails with rustoleum. it is now 5/23 and he has made no effort to do what he promised and has not returned my call. I have found mr ********* to be generally uncooperative and i think that he views us as out of sight out of mind.

Business' Initial Response
********* Fence did not perform the powder coating on his handrails. I told Mr. ******* that we should remove the handrails so Enduro could redo them correctly without charge. He did not want us to remove them. I then suggested that we could paint them as an alternative without charge but we would need three days without wind and rain. The weather has not permitted us these days yet and I have been in communication about this with Mr *******. I called him yesterday and told him we're planning to paint them at the end of this week if weather permitted. He said that was fine. I told him we would take care of him but he is being uncooperative.

Consumer's Final Response
(The consumer indicated he/she DID NOT accept the response from the business.)
We agreed to the powder coated handrails at **** *********'s suggestion and paid him for the work. He is responsible for whoever he subcontracts to not us. I had to chase after Mr ******** to get him to respond to my complaint about the rusting. It took from late October to late March to get him back to our home where he finally agreed that a poor job had been done. At this point we had conclueded that he is unreliable and did not trust him to remove the handrails as we had no guarantee as to when they would be returned if at all.
My wife is handicapped and needs the railings to hold onto.Thus we agreed to have them repainted even though we paid $1000 extra to have them powder coated.
This was March 29th and it is now May 29th and no work has been done and no attempt by **** ********* to keep in touch. The weather is just a flimsy excuse- yes it's spring in Dallas but the weather has not been that bad and there were plenty of good days to get it done.
I called **** ********* one more time on May 20th to see what was going on. He did not return my call as usual and so on thursday 24th I filled my complaint with the BBB.
Sundayevening the 26th at 8pm I get a call from **** and he is now ready to come to do the painting and thinks he can do it later this week BUT I must call him to reomind him. I could not believe my ears-- i'm an unhappy customer and it is MY job to remind him to show up? I was at a social gathering and didn't feel like getting angry so I said ok and hung up.
I called him back the next day on Monday and left a message that I had already filed a BBB complaint but that if he showed up and did the work on Friday- I wanted to be home when he worked on it- and did the work to my satisfaction -- that I would certainly take that under advisement and it may well have settled the matter.
I returned his call on tuesday at which time he told me that since I had filed with the BBB the offer to repaint was being withdrawn and he'd let the BBB handle this.
I do not know whether **** ********* was in over his head in offering customers powder coating or not. Others who have looked at the railing have commented that it's poor quality coating that should have been obvious to a trained eye at the outset.
In conclusion i think this matter is a good case study on how not to handle customers. If he had been immediately responsive, put the interests of the customer first ,and stayed in communication with me we would not be having this dispute

Business' Final Response
I did offer to remove the handrails and have them re powder coated at no cost to the customer. He was not willing to let us do that.

Complaint Resolution: Company resolved the complaint issues. The consumer acknowledged acceptance to BBB.
Industry Comparison| Chart
Construction & Remodeling Services, Marble & Granite Installation, Stonework Fabrication, Gates, Fence Posts & Fittings, Fence Staining, Fence Contractors, Granite, Remodeling Services, Floor Laying, Refinishing & Resurfacing, Drywall Contractors
Government Actions

BBB knows of no significant government actions involving Robitzsch Fence.

Advertising Review

BBB has nothing to report concerning Robitzsch Fence's advertising at this time.
Additional Information
top
BBB file opened: 06/23/2011
Business started: 01/01/2009
Type of Entity
Sole Proprietor
Contact Information
Principal: Mr. Kristopher Robitzsch (Owner/Operator)
Business Category
Construction & Remodeling Services, Marble & Granite Installation, Stonework Fabrication, Gates, Fence Posts & Fittings, Fence Staining, Fence Contractors, Granite, Remodeling Services, Floor Laying, Refinishing & Resurfacing, Drywall Contractors
Products & Services
Custom fences: decorative steel, iron, privacy, cedar, wrought iron, vinyl and pool fences.
Also, provide full residential remodeling: Floors, counter tops, painting, etc.
Hours of Operation
Mon: 09:00 AM to 05:00 PM
Tue: 09:00 AM to 05:00 PM
Wed: 09:00 AM to 05:00 PM
Thu: 09:00 AM to 05:00 PM
Fri: 09:00 AM to 05:00 PM
Sat: 11:00 AM to 03:00 PM
Alternate Business Names
Robitzsch Remodel & Fence
Industry Tips
BBB Warns Spring Time Brings Home Improvement Scams
Home Improvements
Map & Directions
Address for Robitzsch Fence
3100 Main St. Suite #148
Dallas, TX 75226
LocationsX
1 Locations
3100 Main St. Suite #148

Dallas, TX 75226(972) 808-7545Directions
Industry Comparison ChartX
The information in the table below represents an industry comparison of businesses which are of the same relative size. This is based on BBB's database of businesses located in Dallas and Northeast Texas. Businesses may engage in more than one type of business. The percent of time the business engages in a type of business is not accounted for. There is no known industry standard for the number of complaints a business can expect. The volume of business and number of transactions may have a bearing on the number of complaints received by BBB.
*Robitzsch Fence is in this range.
X
Types of Complaints Handled by BBB
BBB handles the following types of complaints between businesses and their customers so long as they are not, or have not been, litigated:
Advertising or Sales
Billing or Collection
Problems with Products or Services
Delivery
Guarantee or Warranty
We do not handle workplace disputes, discrimination claims or claims about the quality of health or legal services.
X
Additional Web Addresses
X
BBB Complaint Process
Your complaint will be forwarded to the company within two business days. The company will be asked to respond within 14 days, and if a response is not received, a second request will be made. You will be notified of the company's response when we receive it (or notified that we received no response). Complaints are usually closed within 30 business days.
X
BBB began including the text of consumer complaints and business responses in BBB Business Reviews on 07/01/2013 for complaints filed on 01/01/2013 and thereafter. This includes all complaints that meet our reporting guidelines and that are filed electronically. We also report on the resolution of the complaint, as determined by BBB.
X
What is BBB Advertising Review?
BBB promotes truth in advertising by contacting advertisers whose claims conflict with the BBB Code of Advertising. These claims come to our attention from our internal review of advertising, consumer complaints and competitor challenges. BBB asks advertisers to prove their claims, change ads to make offers more clear to consumers, and remove misleading or deceptive statements.
X
What government actions does BBB report on?
BBB reports on known significant government actions involving business' marketplace conduct.
X
About BBB Business Review Content and Services
Some Better Business Bureaus offer additional content and services in BBB Business Reviews. The additional content and services are typically regional in nature or, in some cases, a new product or service that is being tested prior to a more general release. Not all enhanced content and services are available at all Better Business Bureaus.
X
Thank you for your feedback.