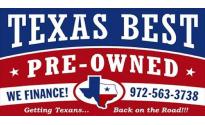 2 of 2 images | See All Images
BBB Accredited Business since 11/12/2012
BBB Business Reviews may not be reproduced for sales or promotional purposes.
Description
Texas Best Pre-Owned is a car dealership specializing in pre-owned cars and trucks. We service our vehicles, sell our vehicles, and finance our vehicles.
Request a Quote
BBB Accreditation
A BBB Accredited Business since 11/12/2012
BBB has determined that Texas Best Pre-owned meets BBB accreditation standards, which include a commitment to make a good faith effort to resolve any consumer complaints. BBB Accredited Businesses pay a fee for accreditation review/monitoring and for support of BBB services to the public.
BBB accreditation does not mean that the business' products or services have been evaluated or endorsed by BBB, or that BBB has made a determination as to the business' product quality or competency in performing services.
Reason for Rating
BBB rating is based on 16 factors. Get the details about the factors considered.
Factors that lowered Texas Best Pre-owned's rating include:
Length of time business has been operating.
Factors that raised Texas Best Pre-owned's rating include:
Complaint volume filed with BBB for business of this size.
Response to 4 complaint(s) filed against business.
Resolution of complaint(s) filed against business.
BBB has sufficient background information on this business.
4 complaints closed with BBB in last 3 years | 1 closed in last 12 months
| Complaint Type | Total Closed Complaints |
| --- | --- |
| Advertising / Sales Issues | 1 |
| Problems with Product / Service | 3 |
| Billing / Collection Issues | 0 |
| Delivery Issues | 0 |
| Guarantee / Warranty Issues | 0 |
| Total Closed Complaints | 4 |
Read Complaints | Definitions | BBB Complaint Process | File a Complaint
03/06/2014
Problems with Product / Service | Read Complaint Details

X

Additional Notes

Complaint Category: Unauthorized changes to the contract or agreement

Complaint: Bought a vehicle, paperwork was manipulated to increase price of the vehicle by $928.
Advertised a 1999 Suburban on Craigslist at $3,711. Ad stated that the vehicle was in great condition and that no check engine or any other maintenance warning lights were on.

I test drove the vehicle about 3 or 4 miles down the road, then bought it, putting $1,000 down.

Upon driving the vehicle off the lot, about 10 miles down the road the transmission started jerking and the check engine light came on.

I immediately returned the vehicle, they looked it over, said the transmission was bad. The owner, ***** ******, agreed to replace the transmission at no cost to me.

When I bought the vehicle I did not receive any of my original paperwork. I returned about a month later, and received a portion of the paperwork (only 4 pages, even though I signed about 20 pages and there were probably about 30 pages of information).

Much to my surprise, on one of the documents given to me, a Retail Purchase Agreement, the stated price of the vehicle was $4,639, $928 above the original, advertised and agreed upon purchase price.

I asked one of the car salesmen about the discrepancy, he stated the difference was an in-house finance fee.

No in-house finance fee was explained to me at the time of purchase, nor it this fee disclosed in any of the documents.

I asked the owner ***** ****** to correct this discrepancy, he rudely told me that he was not and that he could charge any price he wanted to.

Correction *****, you must charge a price that you advertise and that is mutually agreed upon.

At any rate, there was no resolution and I will be forced to file a lawsuit.

Initial Business Response
This customer came in, put $1000 down on a 1999 Suburban with 200k miles and financed the balance with us. Spent hours explaining how the financing worked, he signed every document, which there are 44 documents total, 14 of which specifically break down the price, the financing, etc.. So not sure how he could misinterpret the price he was paying. But, he left in the vehicle, called saying the transmission was acting up. Again, this was a cheap, high mileage, vehicle, sold as/is with absolutely no warranty. And I have all the documentation proving this. But, I did what I thought was right and I told him not to worry, I would put a new transmission in it if I had to. He brought it in the next week. I ended up putting a transmission in the truck costing me $1850, not asking for a dime from him. Again, this is a $4k vehicle we are talking about. I did this to try and keep a customer happy, putting money and profit aside. After this was handled and we thought everything was fine. he contacted me saying that we overcharged him on the paperwork and he demanded it be corrected. I tried explaining that the price was correct, and he said apparently he didn't understand the numbers. Again, I have all the documentation to prove my case and to leave all the numbers as they were. But, no....I again, tried to do the right thing, I credited his account the $926 that he said we overcharged him. And again, this is a 4000 car we are talking about. After this I thought for sure he would be happy. But, no...that was not the case...Now he wants his monthly payments to be lowered as well. His account was credited the $926 which will just make him pay the loan off a few months sooner. I have tried throwing money at this customer in a better since and it just has not worked. I can fax proof of everything I have stated.

Complaint Resolution: Company addressed the complaint issues. The consumer failed to acknowledge acceptance to BBB.

04/22/2013
Advertising / Sales Issues | Read Complaint Details

X

Additional Notes

Complaint Category: Sales presentation misrepresented the product

Complaint: 1999 Dodge R1500 trk sold to me in Feb 2013 w/o a cat convrtr. Dealer did NOT disclose at sale that there was no cat convert.
On February 1, 2013, I traded a vehicle in for a 1999 Dodge Ram 1500 truck. VIN ***********XXXXXX I purchased a Diamond warranty to go along with the purchase. Sales person, Tommy Wynn and, Owner, Jaime ******, disclosed that the sales practices of Texas Best Preowned (dealer number, XXXXXXX) is to make sure there are no major issues with any of their vehicles when they are sold. They did NOT disclose that their where any problems with the truck NOR did they disclose that the truck did NOT have a catalytic converter. When I got the truck home, I noticed a knocking on the rt front passenger tire. After 2 weeks, I noticed a small leak on the drive shaft under the truck and after 1 month the a/c quit working. I was told by Diamond Warranty to take the truck to a Pep Boys,where they accept that type of warranty. I took it in on a Tuesday, April 9th. The mechanic, Zack, at Pep Boys called me the same day with a estimate of things that were wrong and the costs of the repairs. ($3200)Zack told me that a representative from Diamond Warranty would come out to look at the vehicle and make a decision of what Diamond would cover. On Friday, April 12, Zack called and said that all the representative from Diamond would cover is $200 for some bearings.(?) Zack also told me at that time that the vehicle did NOT have a catalytic converter. (I was unaware of the fact until he told me) He advised me to take it back to the dealer because the Tx law says that a dealer should not sell a vehicle w/o a cat. conv. I called Texas Best Preowned and spoke to Rick about the situation. He denied that there was a law of any kind and was not helpful at all with a solution except that he told me to try to get in touch with the owner through email. He stated the owner, ******, is hard to get ahold of. When I spoke to Rick, I discussed bringing the truck back to get reimbursed for the sale of the vehicle and he said they could not do that because he said he was unaware of any law in regards to the situation. I am sending an email to Jaime ****** in regards to the warranty issues with Diamond and about why he sold me a vehicle without a catalytic converter.

Business' Initial Response
Mr ****** bought a 1999 Dodge with 150,000 miles. When we sell older and higher mileage vehicles, we do our best to find items that need immdeiate attention, and fix them. But, anytime you take a 15yr old / 150,000 mile vehicle into a service facilty, they WILL find a laudry list of things that COULD be done to that vehicle, thats what they get paid to do. I spoke with ****** yesterday and advised him of this. I also addressed the catalytic convertor issue, in which. There are no such laws requiring us to install convertors on vehicles which are sold on an as/is basis. But, as I advised Mr ******, that if it took me putting convertors on the truck to make him happy, I would do it in a heartbeat. And as far as the 3200 in repairs, I asked him to fax it to me and if there were any issues on there that we SHOULD have caught beforehand, they would be addressed. But, most of the items on the list, were all maintenance items. No warranty companies cover maintenance items.

Complaint Resolution: Company resolved the complaint issues. The consumer acknowledged acceptance to BBB.

02/26/2013
Problems with Product / Service | Read Complaint Details

X

Additional Notes

Complaint Category: Failure to provide promised assistance or support for products or services

Complaint: vehicle check engine light comes on every other day after the clear it instead of fixing owner said sold as is when i bought with 3m/5000m warranty
inspection was out when purchased they agreed to pay for inspection vehicle would not pass because check engine light and a code that had something to do with the powertrain owner ****** said vehicle is sold as is and they gave me a chance to buy extended warranty he got really rude with me infront of my young child and made me feel really uncomfortable and scared to even go up and deal with them anymore. when i purchased the vehicle rick ****** told my dad and myself multiple times that the vehicle was covered under a 3 month 5000 mile powertrain warranty. the employees said it was just the gas cap they replaced it and cleared the code but it keeps coming up there is something else wrong and i know it they just do not want to spend the money or time to fix it. this vehicle will not pass inspection unless they fix it. i REFUSE to pay out of my pocket for the issue. purchased the car 2/7/13 problem came up 2/8/13. sales red was rick ******. i put 2 grand down and they gave me 2 grand in trade for my old car. payment method was debit card and trade in. i either want my old car back along with my 2 grand or i want this new used vehicle completely fixed and able to pass inspection i also feel i deserve compensation for all the gas i have wasted driving back and forth from forney to terrell for inspection and to get the dealership to fix the coded problem not clear it. in total i have driven out there and back FOUR times and wasted more then a tank of gas. this dealership has me incredibly stressed out and sick to my stomach i feel they have broken some UDAP laws and are unhonest. i feel that they are taking advantage of me because i am a single mother.

Business' Initial Response
Every vehicle that is sold at our dealership is sold as/is; there are actually 3 different forms that we require the customer to sign. Above and beyond what we are required to do by the DMV. We do provide a 3rd party warranty that is a 3mo / 5000 miles powertrain warranty that covers the engine and powertrain. The issue with Mrs. ****** vehicle would not be covered under this warranty. With that being said, I operate my business on my morals as well. I would NEVER sell a vehicle to someone, and something mechanically go wrong the very next day, and just tell the customer they are on their own. I just do not think that would be right, whether I am legally required to or not. Mrs. ****** did notify us the day after her purchase and told us the check engine light came on. We never once mentioned that we did not have intentions of fixing the vehicle whether we had to or not. We just do not operate that way. Our first response was for her to swing by in the vehicle so that we could scan the code, and start to rectify the problem. Since Mrs. ****** only lived 9 miles away, I did not think it would be an issue. Mrs. ****** came into the dealership the next day and we did scan the code which was an evap code. The first process to pinpoint and try to fix the issue is to replace the gas cap. We did buy her a new gas cap that day. We then cleared the light expecting that to fix the issue. But, we did tell her that the light might come back on, that she just needed to drive the vehicle 60-70 miles as it states in the diagnoses procedure. But I told her to just continue her daily routine while accumulating these miles, and assured her that it was ok to drive. After that, I received a phone call from her father very upset with me. He told me that Mrs. ****** was very upset and I sincerely apologized to him and assured him that the vehicle would be fixed properly. It was at that time, he had told me that the light had come back on. I then re-assured him not to worry, that we would get the vehicle fixed, not matter what it cost, with as little inconvenience as possible. He then told me that he would have her swing the vehicle back by her to that we could rescan the vehicle, and get a game plan together (order parts) and schedule a time to fix the issue. The phone call ended very well and I assumed that everyone was happy and that the next step would be for her to come back in as her father had said. I just assumed after the conversation I had with her father, that everything was fine. And now I am getting this complaint. We go above and beyond to try and make every customer happy and thought that's what we were doing for Mrs. ******. We do our best to prepare vehicles for sale and try and eliminate any issue so that the customer does not have to go through any of this, but it does happen. And I know it can be frustrating for all of those involved. The evap code on her Jeep is a very common trouble code and can be a number of different things that cause it. But, the gas cap is the most common. Regardless, as I stated to her father, NO MATTER WHAT it is, it will get repaired. And if the difference one of my customers being happy is a little gas money, so be it. Not a problem. I just want her to be happy!

Complaint Resolution: Company addressed the complaint issues. The consumer failed to acknowledge acceptance to BBB.
04/10/2013
Problems with Product / Service | Read Complaint Details

X

Additional Notes

Complaint Category: None of the Above - Repair Complaint Issue

Complaint: All I want is this to b fixed I'm not asking for my money back for repairs we didn't know about having a 90 day warranty.
My husband and I bought a 2005 dodge truck from this location an not even 600 miles the transmission went out. We call the car lot and they told us to take it to there people to fix . My husband an I have knowledge that the place they wanted us to take it to they are selling there business. So my husband took it to another place an had the repairs done it cost $1,650.00. I called Texas Best Pre Owned and spoke to Rick and told him and asked what we could do about the money out he put me on hold and his son the owner got on the phone an told me that there is nothing he could do. Because he said we needed to let his people fix it an that we had a 90 day warranty that would fix it we didn't know about a 90 day warranty his father (Rick) sold us the truck an we were never told this. It's a used lot we have never seen a used lot give 90 day warranty. All we asked sense we spent the money for the repair to see if that figure could be taken off the amount of the truck. The owner said no that's not his problem an was rude about it. This is the second problem we have had with place sense we bought this truck the first was about tires we got that issue taken care of. I never thought this would happen we don't want a bad relationship with this company .I was not asking for money all I asked was that maybe they could take it off the note of the truck. Then the threats if one day late with payment he will pick truck up that crazy. I don't plain on being late I just want this fixed I should have the right to take my truck any where to get it fixed right not to someone that is getting ready to close there doors or to someone I don't know. I was not rude to the owner but I do feel he was rude to me as a customer.

Business' Initial Response
Contact Name and Title: ****** ******
Contact Phone: XXXXXXXXXX
Contact Email: *****@texasbestpreowned.com
Mr and Mrs ****** purchased a Dodge Truck with 179k miles. The truck was sold as/is, as is every vehicle sold here that has more than 150k miles at the time of sale. We purchase a 90 day warranty on every vehicle that is sold that has less than 150k miles, but the 3rd party warranty company does not offer any coverage for vehicles with more than 150k miles. Because of that, any vehicle that is sold here with more than the 150k miles, is advertised and sold 100% as/is. The customers knew that the truck had no warranty at the time that they purchased it. With that being said, we do operate our business with morals, and I do my very best to make sure that every vehicle sold, is a trouble free purchase. They contacted us last week and let us know that they were having trouble with the transmission and even though we were not liable for any repairs, we told them which repair facilty to take the truck to so that we could diagnose it and potentially fix it, at no charge to the customer. That conversation was on Friday, March 1st. They never showed up. We tried contacting them over the weekend, but were unable to reach them. She finally called us on the 7th saying that they had already had the truck repaired at a different shop and wanted us to pay the $1700 bill. We have our own shop and the main reason that we employee mechanics is so tha I am able to keep people happy and fix issues like these even though I am not required to. But, taking the vehicle to another shop just wasnt an option in this situation. Even if the truck had under the 150k miles and qualified for the warranty. All warranty companies have a process in which a claim is made. And the first step is to take the truck to an approved repair facilty, second upon diagnoses, an inspector is sent out to visually inspect the parts and approve or deny the claim. You just cant say it broke and expect them to pay the claim. We had full intentions of repairing the vehicle for them at our repair facility, hence the reason we told them when and where to take it, but they chose not to do so.

Consumer's Final Response
(The consumer indicated he/she DID NOT accept the response from the business.)
Because due to the fact they never called us back an the thing is where they wanted our truck to go was closing down. My husband call an spoke to the owners father an he said he would call us back we never heard anything at all. So we took the truck had it fixed have everything showing what was wrong called them left message and was told **** would call me back an didn't I waited and called him back an low an behold he answered I asked if he got message I called he said no. This is the problem they don't return calls an try to get out of doing the right thing I guess they think we are trying to scam them we are not . An like I said before we didn't want our money back we just wanted them to make this right an maybe take it off the note of the truck. And the only repair place that **** gave us was the one going out of business you know we did what we were suppose to they failed on there end an want to blame the customer. That's fine but I will let people know just how they are about not returning calls and cussing at customers and not making things right. We didn't have 600 miles on it we where not driving it do to the tires we take care of our cars so they are blaming us for the problem . I'm not happy at all an telling me if I'm one day late they will pick our truck up to me that's threating someone because you know your in the wrong. As a business person you don't go around an do that. An it was 1650.00 and I didn't ask him to pay the bill I paid it I just wanted them again to make it right to see if they could take it off my note.

Business' Final Response
I can provide all of their paperwork that states numereous times that the vehicle does not have a warranty and was sold 100% as/is

Complaint Resolution: BBB determined that while the company addressed the complaint issues, the complainant was dissatisfied and the matter was outside BBB Rules of Arbitration.
Industry Comparison| Chart
Government Actions

BBB knows of no significant government actions involving Texas Best Pre-owned.

Advertising Review

BBB has nothing to report concerning Texas Best Pre-owned's advertising at this time.
Additional Information
top
Map & Directions
Address for Texas Best Pre-owned
15672 State Highway 205
Terrell, TX 75160-0934