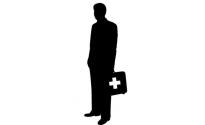 1 of 1 image | See All Images
BBB Accredited Business since 10/04/2006
BBB Business Reviews may not be reproduced for sales or promotional purposes.
Description
The Doctor Job uses direct mail to assist physicians in networking with peers to find unadvertised positions.
Request a Quote
BBB Accreditation
A BBB Accredited Business since 10/04/2006
BBB has determined that The Doctor Job Inc. meets BBB accreditation standards, which include a commitment to make a good faith effort to resolve any consumer complaints. BBB Accredited Businesses pay a fee for accreditation review/monitoring and for support of BBB services to the public.
BBB accreditation does not mean that the business' products or services have been evaluated or endorsed by BBB, or that BBB has made a determination as to the business' product quality or competency in performing services.
Reason for Rating
BBB rating is based on 16 factors. Get the details about the factors considered.
Factors that raised The Doctor Job Inc.'s rating include:
Length of time business has been operating.
Complaint volume filed with BBB for business of this size.
Response to 5 complaint(s) filed against business.
Resolution of complaint(s) filed against business.
BBB has sufficient background information on this business.
5 complaints closed with BBB in last 3 years | 2 closed in last 12 months
| Complaint Type | Total Closed Complaints |
| --- | --- |
| Delivery Issues | 2 |
| Guarantee / Warranty Issues | 1 |
| Problems with Product / Service | 2 |
| Advertising / Sales Issues | 0 |
| Billing / Collection Issues | 0 |
| Total Closed Complaints | 5 |
Read Complaints | Definitions | BBB Complaint Process | File a Complaint
Government Actions

BBB knows of no significant government actions involving The Doctor Job Inc..

Advertising Review

BBB has nothing to report concerning The Doctor Job Inc.'s advertising at this time.
Additional Information
top
BBB file opened: 04/26/2005
Business started: 10/06/2004
Type of Entity
Corporation
Incorporated: October 2004, FL
Contact Information
Principal: Mr. Howard Smith (Customer Service)
Mr. Adam Heath Avitable
(Director)
Business Category
Job Listing & Advisory Services
Products & Services
This company prepares mailings of 1000-2000 resumes to assist physicians with their job searches in saturated markets and also provide personal statement editing and writing.
Hours of Operation
Mon: 08:00 AM to 11:00 PM
Tue: 08:00 AM to 11:00 PM
Wed: 08:00 AM to 11:00 PM
Thu: 08:00 AM to 11:00 PM
Fri: 08:00 AM to 11:00 PM
Sat: 08:00 AM to 11:00 PM
Sun: 08:00 AM to 11:00 PM
Refund and Exchange Policy
We create a customized product and invest time and money into each product so once a product has been purchased, we cannot cancel an order. We offer a 100% money-back guarantee if the client does not find a job, subject to some terms and conditions.
Service Area
Nationwide
Alternate Business Names
Career Services MD
Industry Tips
BEWARE OF BOGUS POSTAL JOB LISTINGS
Beware of Employment Scams
Beware of Phony Federal Job Listings
Employment Services
Job Applicants Beware of Reshipping and Forwarding Scams